Advising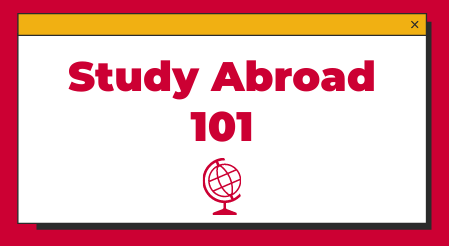 Check out our Study Abroad 101 video to learn about the basics of studying abroad at Rutgers. 
More questions? Come speak to our Study Abroad Advisors!
Virtual Drop-In Advising
Our drop in advising is offered virtually on Mondays, Tuesdays, and Thursdays from 1:00 – 4:00 p.m. (ET) and Wednesdays from 11:00 a.m. – 2:00 p.m. (ET). Stop by anytime during the session and talk to one of our advisors. Click the links below to register and receive the Zoom meeting link.
Advising By Appointment
You can also schedule a private virtual appointment with an advisor outside of drop in hours using the button below.

Events
Paying for Study Abroad Webinar
Our virtual Paying for Study Abroad live sessions have returned for Summer 2023! Each Wednesday from September 13 - Nov 29 from 6:00 - 7:00 p.m. (ET), our advising team will be on hand to discuss the basics of studying abroad at Rutgers.  Additional sessions have been added for December 5th and December 14th at 12:00 p.m. (ET).
If you are not able to attend a live session at the above time, click the link below for a recorded webinar.
Questions? You can always contact our staff and schedule an advising session to learn more.
Study Abroad Fairs
One of the best ways to learn about study abroad opportunities is by attending a Study Abroad Fair. Held annually in the Fall semester, our fair is your opportunity to talk directly to our advisors, program directors, and partner institutions.
Enjoy free food, grab some swag and enter to win application fee waivers and study abroad scholarships!
Information Sessions
Upcoming Study Abroad Information Sessions:
Fall/Yearlong 2024 Programs: UK & Ireland (General weekly session) | Tuesday, November 28th | 11:00 a.m.- 12:00 p.m. (ET) | Join Us Online | Learn More & Apply
Fall/Yearlong 2024 Programs: Spain (General weekly session) | Wednesday, November 29th | 11:00 a.m.-12:00 p.m. (ET) | Join Us Online (passcode:069731) | Learn More & Apply
Summer 2024/Fall 2024 SEBS Info Session | Wednesday, November 29th | 3:00 p.m. (ET) | Join Us Online | Learn More & Apply 
Fall/Yearlong 2024 Programs: Hot Topics – Walking Through the Study Abroad Application Process | Thursday, November 30th | 3:00 p.m. (ET) | Join Us Online | Learn More & Apply
Paying for Study Abroad live session | Tuesday, December 5th | 12:00 p.m.(ET) | Join Us Online | Learn More
Fall/Yearlong 2024 Programs: Hot Topics – Walking Through the Study Abroad Application Process | Tuesday, December 5th | 4:00 p.m. (ET) | Join Us Online | Learn More & Apply
Fall/Yearlong 2024 Programs: Hot Topics – Financial Aid, Tuition Remission, & Scholarships | Wednesday, December 6th | 12:00 p.m.* (ET) | Join Us Online | Learn More & Apply
Paying for Study Abroad live session | Thursday, December 14th | 12:00 p.m.(ET) | Join Us Online | Learn More
Fall/Yearlong 2024 Programs: Hot Topics – Explaining the Course Equivalency Form (CEF) | TBA | Join Us Online | Learn More & Apply