SPRING 2022 SCHEDULE
Join Rutgers Global for this weekly "pop-up lounge" open to all Rutgers students and scholars, Fridays from 4:00–5:00 p.m. EDT. Enjoy games, activities, and conversation—and make new friends from around the world!
For other programs and events organized by Rutgers Global, see our event calendar.
February 11 – Let's Get Cooking (Virtual)
Join on Zoom: go.rutgers.edu/cooking
Join us for an hour devoted to learning how to make either a crowd-favorite dish for Sunday's big game or treat for your Valentine! Your choice! Attendees are also welcome to share their favorite recipes. 
February 18, 4-6 pm – Game Night with the GSA
Multipurpose Room (College Avenue Student Center)
Rutgers Global has teamed up with the Graduate Student Association for a board game night.  Stop by to play some classic games along with some modern favorites.  All students welcome – you don't need to be a graduate student to attend.
March 4 – Coloring and Chocolate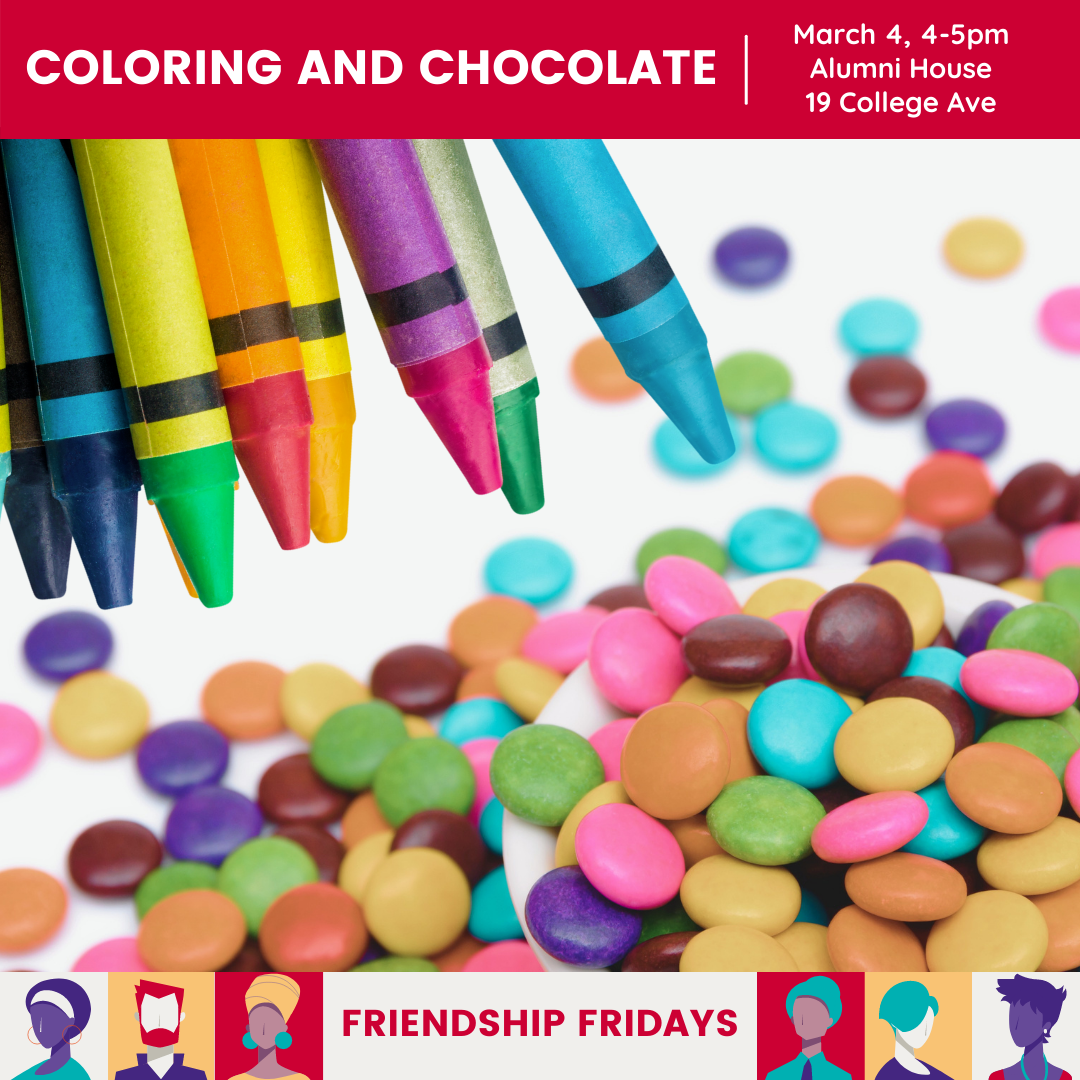 Alumni House, 19 College Avenue 
Spend the hour chatting with other students as you color away your stress and enjoy a variety of chocolate snacks!
March 25 – Art Class with Wes
Collaborative Learning Center (Livingston Student Center)
This week, join Rutgers Global and the Zimmerli Art Museum for an hour-long, still life sketch lesson with artist Wes Sherman.  Bring a pencil or other writing instrument and some paper. 
April 1 – Trivia Challenge
Graduate Student Lounge (College Avenue Student Center)
Are you interested in earning some prizes for knowing random facts?  Then join us for a team trivia challenge.  Come solo or bring your friends to form a team.
April 15 – Let's Learn ASL
Graduate Student Lounge (College Avenue Student Center)
April 15th is National American Sign Language (ASL) Day! Spend the hour with the Rutgers ASL Club and Rutgers Global learning some basic sign language along with some travel-inspired words. This event is open to all skill levels from beginner novice to expert and anywhere in between. 
April 22 – Culture Day
Coffeehouse (Livingston Student Center)
Help RU Global celebrate the diverse community we have at Rutgers! This week is an opportunity to learn from fellow students, through language, art, culture, and more.  Attendees are welcome to share about their own heritage during the event.  
April 29 – Ice Cream Social
30 College Avenue (Outside)
Celebrate the end of the semester and warmer weather with some ice cream.